Companies are Flush with Cash – Let's Take Advantage of It
Companies are flush with cash these days...
And they're increasingly adopting a similar strategy to put that money to work.
Today, I'll reveal this strategy...
And explain how we can position ourselves to profit from it.
Companies are Flush with Cash – Let's Take Advantage of It
Two major deals recently captured my attention.
First, energy company Oneok (OKE) acquired Magellan Midstream Partners for close to $19 billion. And for the same price, gold miner Newmont (NEM) scooped up an Australian competitor, Newcrest.
That's nearly $40 billion spent on just two deals.
What's going on here? The answer could lead us to an exciting investment opportunity...
Flush with Cash
Before I reveal this opportunity, let me stress an important fact.
A lot of companies are flush with cash – money that's sitting on the sidelines.
These companies want to put this money to work, in hopes of boosting stock prices. What can they do?
Historically, they've had three options...
A Special Occasion
First, they can issue special dividends.
A dividend is simply a distribution of a company's earnings to its shareholders. It's a way for a company to give some extra money to its investors.
A lot of companies issue periodic dividends. But once in a while, a company sitting on excess cash will issue a special dividend.
In 2004, Microsoft (MSFT) took $30 billion and distributed it to its shareholders as a $3-per-share one-time dividend. (For reference, Microsoft's regular dividend was $0.08 per share at the time.)
This was a nice windfall for shareholders. But the generosity did nothing to move Microsoft's stock price.
You see, issuing these dividends is often seen as a one-time event, not a long-term trend. As a result, the stock price typically doesn't budge.
That's why special dividends have become somewhat antiquated. Management is shying away from them because they often get paid through shares. And if issuing special dividends doesn't make their shares go up in value, then there's not much incentive to go this route.
Let's Make a Deal
The second option involves mergers and acquisitions ("M&A").
Earlier, I pointed out two blockbuster deals, ones that both resulted in the acquiring company's stock price trending up.
The problem here is that acquisitions are often expensive, time-consuming, and sometimes tricky to pull off.
That's why companies are increasingly turning to a third option...
The Rundown on Buybacks
I'm referring to stock buybacks.
A stock buyback is when a public company uses cash to purchase shares of its own stock. And it's a tactic that can help a company boost its share price. Here's how...
Imagine a company as a pizza. And its shares represent slices.
The fewer shares that are doled out, the bigger your "slice" is.
But if the company issues additional shares, it's like cutting the pizza into more slices. Your slice becomes smaller. By buying back shares, the company is offering bigger slices to shareholders.
Financial Gimmickry
At first blush, this sounds like financial gimmickry. And often, it is.
Sometimes, a company buying back shares is merely trying to fool investors into thinking that the company is doing better than it actually is. Other times, it's a savvy way to put excess money to work.
When COVID hit, interest rates fell to zero. And as a result, stock buyback activity went bonkers. You see, at 0%, it was easy and cheap to borrow money and use that to buy shares, a move that often sent stock prices soaring.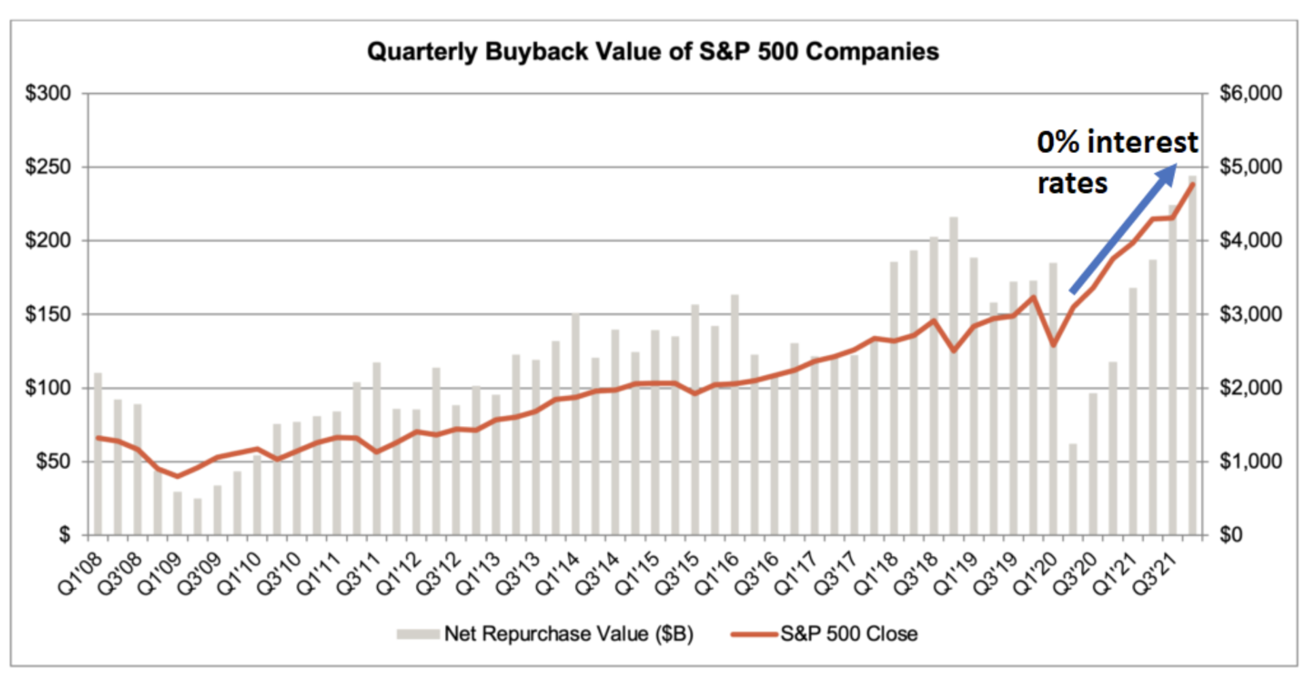 The chart above shows the value of the S&P 500 against the backdrop of share buybacks. As you can see, once COVID hit, 0% interest caused share buybacks to go almost parabolic, and so did the value of stocks.
Our Opportunity
To be clear, sometimes stock buybacks don't work out as planned. Keep in mind that companies that borrow money to complete buybacks need to repay their debts. Department store chain Sears is a great example of a company that borrowed money to boost its stock but failed to achieve meaningful growth. The retail chain filed for bankruptcy last year.
Right now, though, a lot of companies have cash sitting on the sidelines. And they're putting that money to work through stock buybacks, creating a major trend.
If you're a "Pro" subscriber, I'll share the perfect way to play this trend – a way to potentially profit from these buybacks through a single investment. Don't miss out!
We're in it to win it. Zatlin out.
MONEYBALL PRO
TRADE OF THE DAY
[ ACTION TO TAKE ]
FOR MONEYBALL PRO READERS ONLY
>>>>>>>>>> Learn more <<<<<<<<<<
In it to win it,


Moneyball Economics