Double Your Money By New Year's?
Furniture giant IKEA is slashing prices…
And other retailers will soon follow suit.
In the midst of these sales, most "expert" investors are showing you trades in the retail sector.
But I've got a better idea — and potentially, it's far more profitable.
For a transcript of this video, see below. This transcript has been lightly edited for length and clarity.
Double Your Money By New Year's?
Good news, folks. IKEA is having a huge sale!
The furniture retailer is slashing prices across the board — and other retailers will likely be doing the same thing.
Today, I'll tell you why this is happening…
And I'll reveal how this shift can help your wallet, and your investment portfolio, too.
Passing the Savings on To You
To set the stage here, let's start with IKEA's latest announcement.
As reported in Bloomberg, IKEA will cut prices on its furniture over the next year. According to reports, the reason behind the discounts is that company costs have come down. And at first blush, this is certainly the case.
For example, look at this chart showing shipping costs over the past five years: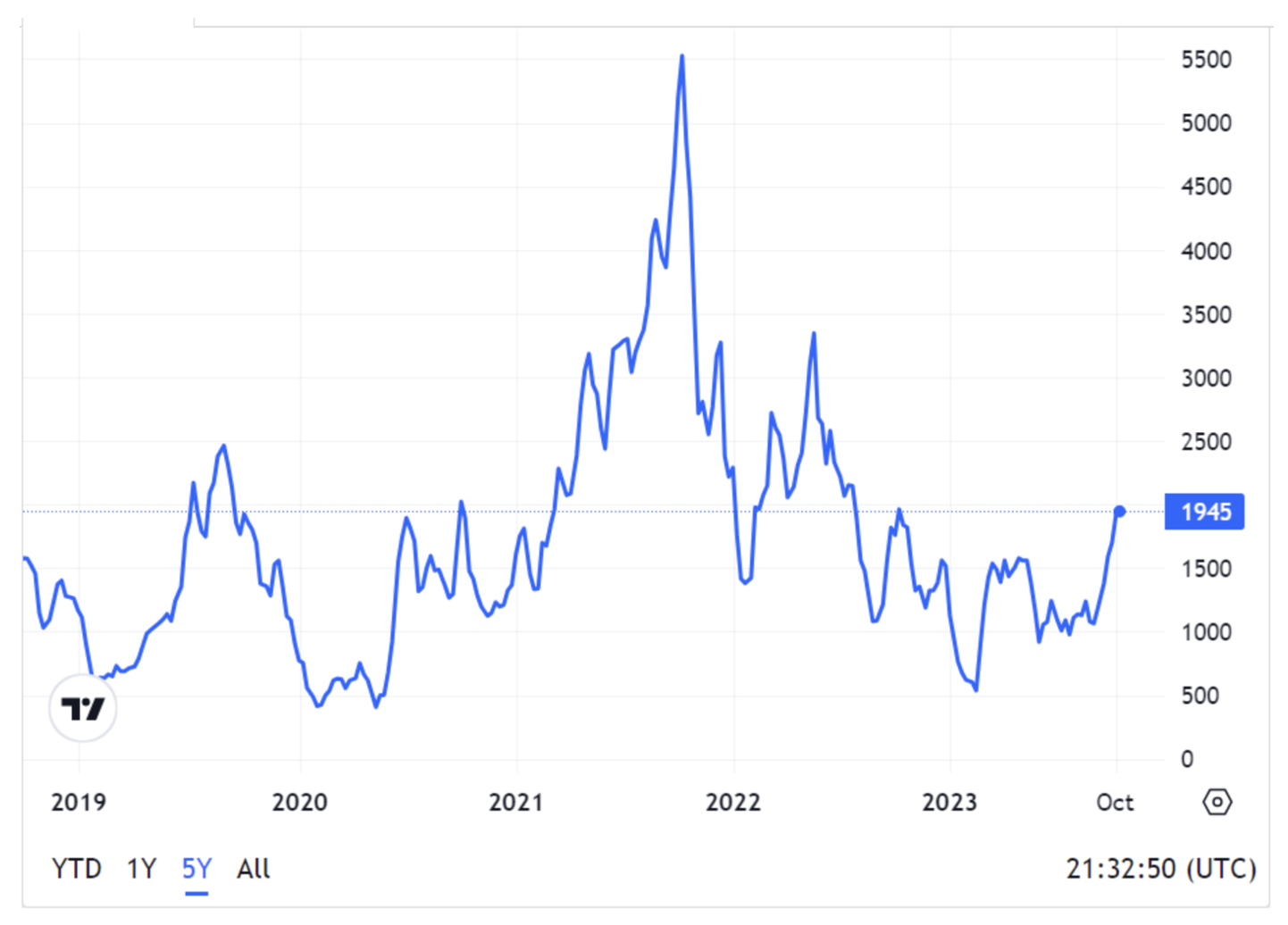 During COVID, shipping costs tripled. But since last year, they've started falling back to earth.
It's the same story for materials like lumber:
Lumber prices surged during COVID. But today, they're near pre-COVID levels.
Essentially, IKEA's costs have fallen considerably. And now the company is ready, if not eager, to pass along these savings to you.
Isn't that nice? Well, I hate to ruin this Kodak moment, but there's an ulterior motive to its announcement…
The Real Reason Behind the Sale
You see, shipping and materials costs may be falling for IKEA. But so are the company's sales.
Consumers have grown tired of price hikes and they're struggling to afford even the basics. Now they've put their feet — and wallets — down and said, "No more."
In other words, they've stopped paying for things they feel are too expensive, at least the things they don't absolutely need. Now retailers are seeing this drop in consumer foot traffic, and they're trying to figure out ways to get consumers back into their stores.
Simply put, in the game of "economic chicken" — consumers versus retailers — it's the retailers who blinked first…
And looking at the data, it's easy to see why.
Shopping Isn't in the Budget
Earlier, I mentioned IKEA's dwindling sales. But it's not just IKEA. Demand for consumer goods in general has taken a significant blow.
Furniture imports in the U.S., for example, are down 30% compared to last year. That's $10 billion worth of furniture.
Even import volume as a whole is down 22% compared to last year. That's fewer tennis rackets, bicycles, furniture, electronics — you name it.
The U.S. consumer is buying a lot less. And retailers are getting the message. That's why they're ready to slash prices and get consumers like you back in the door.
So, do we invest in a retail business like IKEA?
A Tricky Situation
This is where the situation gets tricky.
You see, slashing prices may increase foot traffic and get more people into stores. But this move could impact a retailer's bottom line, and subsequently its stock price.
Furthermore, not every retailer is in IKEA's position. Budget-friendly places like Walmart and Costco are thriving right now. They're where financially-strapped consumers flock to when times are tough.
This makes it tough to invest in retail. There's a lot of uncertainty and murkiness in this sector.
But I've got a better idea…
Double Your Money?
I want to target a sector that's guaranteed to be impacted by the reduction in imports.
I'm talking about the trucking sector.
Keep in mind: if there's 22% less stuff coming in, that's 22% less stuff that truckers are going to be moving around — no matter which retailer it's intended for.
I've got my eye on a specific trucking company, and an investment play that could double your money before year's end.
Make sure you're a Pro subscriber to get all the details.
We're in it to win it. Zatlin out.
MONEYBALL PRO
TRADE OF THE DAY
[ ACTION TO TAKE ]
FOR MONEYBALL PRO READERS ONLY
>>>>>>>>>> Learn more <<<<<<<<<<
In it to win it,


Moneyball Economics