Our Latest Profit Opportunity, Courtesy of the Ancient Romans
Outsourcing is a practice that dates to the Ancient Romans.
And these days, it's big business.
The thing is, we can analyze this specific sector to get a read on the overall economy...
And that's what'll enable us to get positioned for significant profits.
Our Latest Profit Opportunity, Courtesy of the Ancient Romans
I want to tell you about a guy I met last weekend.
His name is Rajesh. And he works for a major global IT outsourcing company.
Rajesh has extensive experience in his field. He's got quite an impressive resume. But right now, he's having trouble finding work.
And while I feel bad for him, his struggle reveals a unique investment opportunity.
All About Outsourcing
I'll talk about this opportunity later. But first, let me tell you more about Rajesh's field of expertise.
Rajesh focuses on outsourcing, basically a fancy word to describe the way companies rely on outside staff to provide support and services.
This is an ancient practice. The Roman army employed outsourcing to hire foreign mercenaries. And today, companies big and small rely on outsourcing to get things done.
Notably, outsourcing enables companies to time the market. If a company wants to expand, nothing helps it grow faster than outsourcing. It can get the talent and help it needs right away.
Similarly, companies don't have to worry about keeping this talent beyond when it's useful. When a project or task is done, the outsourced help simply packs up and moves on to another job.
For the past eight years, Rajesh has been part of this talent pool. He's spent time supporting a major retail company with temporary work.
Now, for privacy reasons, I'm not going to reveal the name of this company, or the outsourcing business Rajesh works for.
But I can tell you that right now, Rajesh is having trouble finding work. And he's not alone...
Rough Times for Temp Workers
Those who know me know I love tracking labor data. It's the best predictor for the economy and the stock market.
One data point I follow closely is payrolls for temporary workers – i.e., those often involved in outsourcing.
Take a look at temp worker payroll data for the past seven years, shown below: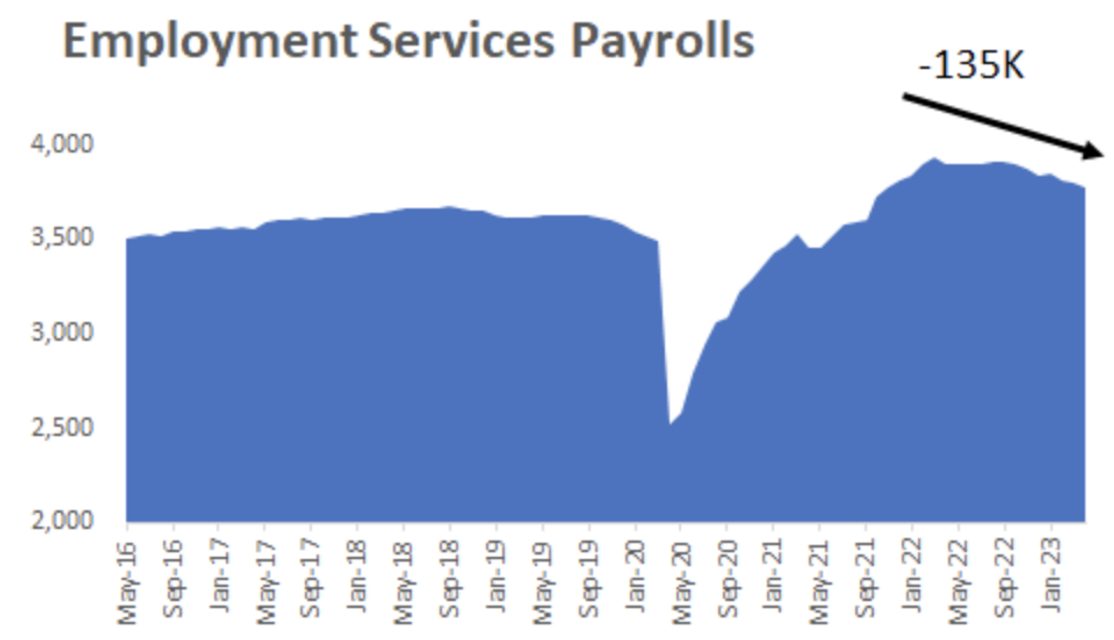 Over the past seven months, 140,000 temp workers have been let go. That's about 5% of the total group.
This is a steep drop-off. And it's why we're seeing a massive surge in jobless claims. Essentially, companies are shedding their workers, electing to let temp workers and contractors go instead of firing full-time employees.
What it Means
This explains why Rajesh is in his current position. But it also tells me a few important things:
First, it demonstrates that companies have gone on the defensive. Consider Rajesh, for example...
He worked for a major retail chain. And the only reason a retailer would pull back on temp workers is the realization that consumers are starting to drift away. They're not spending as much – a sign of pain for the overall economy.
Second, the timing of Rajesh's struggles tells me that things are about to get worse before they get better.
A lot of companies use temp workers. And as their contracts expire (and aren't renewed), we're going to see droves of these workers join Rajesh. Companies will continue to trim the fat and these layoffs will continue to accelerate.
As for the third takeaway...
Our Opportunity
Knowing that companies are going on the defensive, and that temp workers are about to experience even more pain, now we can focus on the opportunities here.
We're taking a bearish outlook on the economy in the near-term as more companies and sectors downsize their outsourcing efforts. And knowing where to look can play to our advantage as investors.
If you're a Moneyball "PRO" subscriber, I'll reveal the details of this advantage, including a stock whose reliance on outsourcing could position those who bet against it for significant profits.
We're in it to win it. Zatlin out.
MONEYBALL PRO
TRADE OF THE DAY
[ ACTION TO TAKE ]
FOR MONEYBALL PRO READERS ONLY
>>>>>>>>>> Learn more <<<<<<<<<<
In it to win it,


Moneyball Economics