The Data Confirms It – This Sector Is a Must for Your Portfolio
How do you make money in the stock market?
Invest in companies showing signs of growth!
Today, I'll reveal how I identify these signs...
And I'll explain why they're all pointing to the same sector.
The Data Confirms It – This Sector Is a Must for Your Portfolio
Like most of you, I've had my ups and downs as an investor.
I've made money investing in companies that are growing. And I've lost money investing in companies that are faltering.
But therein lies the challenge. If growth is key to making money in the market, how can we find out where this growth is happening?
I've discovered how – and today I'll share the answer with you.
Revealing a Company's Future
I spent decades working in corporate America. And one thing I learned is that hiring data is the most reliable barometer of a company's future.
Hiring shows whether management sees a strong future (and the need for more workers) or lean times ahead (likely resulting in fewer workers on the payroll).
The problem I ran into was that the mainstream media didn't do a good job of relaying this hiring data. Often, it feeds us data that's outdated at best, and misleading, or even false, at worst.
So, 14 years ago, I decided I could do a better job. I built a database of monthly hiring for nearly 1,000 companies. And to this day, I read the tea leaves each month to determine what this data is telling me.
Which sectors are trending up? Which ones are headed down? How about individual companies? My hiring data reveals all...
And we can use it to capture significant profits. Let me give you an example...
300% Gains Could've Been Yours
Here's hiring for home goods chain Bed Bath and Beyond (BBBYQ):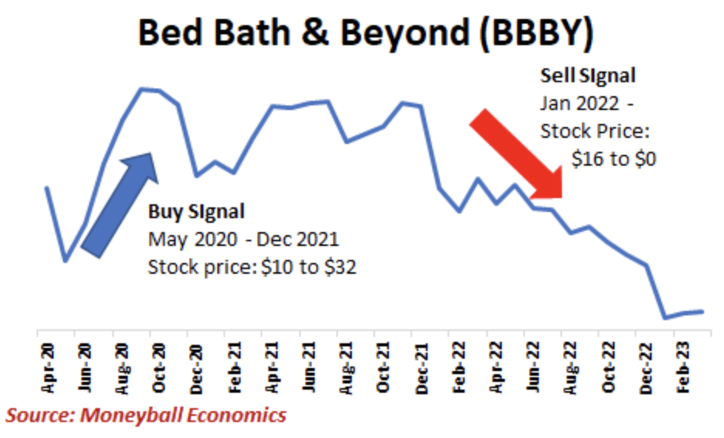 Between May 2020 and December 2021, while many companies floundered during the height of COVID, Bed Bath was hiring. Demand was there for its products, and staff numbers kept ticking up. So did its stock price, which climbed from $10 a share to $32.
If you had used this data to invest in this company in May 2020, you'd have wound up with gains of 300% in barely a year – impressive.
Furthermore, Bed Bath's hiring began to tank soon after. And since January 2022, its stock price has fallen from $16 a share to $0. Following the hiring data would've given you another opportunity to play this outcome and bank some serious profits.
What's Today's Data Telling Us?
Of course, this example is in the past. We need to look at today's hiring data to find our next opportunity...
And judging by the data, the message is clear: Invest in energy, energy, energy!
You see, when I look at companies that are leading the charge in terms of hiring, they're almost all located in the energy industry.
At first blush, this might seem strange. After all, the Russia-Ukraine conflict is simmering and there's less volatility surrounding energy and oil prices. So, why so bullish?
Three Reasons Why
To start, energy demand in Europe is soaring. Keep in mind that this continent cut itself off from Russian supplies of oil, gas, and coal. And it shuttered a bunch of nuclear power plants. Not only is demand rising, but meeting this demand is becoming tougher and tougher.
Then there's China, another site of increased energy demand. Last year, the country was still mostly under lockdown. Now everything is back and there's a huge need for energy.
Finally, the situation here at home is intriguing. While the rest of the world is buying energy, the U.S. is busy selling it. America is taking market share from Russia. And in March, the Biden administration sold oil and gas exploration leases in the Gulf of Mexico – 1.6 million acres for more than $250 million.
A quarter of a billion dollars spent by energy companies looking for new supplies of gas. And these companies are spending even more, understanding that it's a seller's market right now, and big dollars are rolling in.
A Huge Opportunity
This is a massive opportunity. Energy continues to be a sector of growth, and it's essential for your portfolio.
But how exactly do you take advantage of this opportunity? After all, energy is a huge industry. There are a lot of different sectors to invest in.
I see one sector reaping the lion's share of this continued energy boom. If you're a "Pro" subscriber, I'll reveal both this sector and a specific opportunity within it.
We're in it to win it. Zatlin out.
MONEYBALL PRO
TRADE OF THE DAY
[ ACTION TO TAKE ]
FOR MONEYBALL PRO READERS ONLY
>>>>>>>>>> Learn more <<<<<<<<<<
In it to win it,


Moneyball Economics