The Energy Play You Don't Want to Miss Out On
While the mainstream media obsesses over Donald Trump's indictment...
Another Washington player just completed a major deal.
Let me tell you why this story is critical to America's energy future...
And how it's presenting some exciting opportunities to profit.
For a transcript of this video, see below. This transcript has been lightly edited for length and clarity.
The Energy Play You Don't Want to Miss Out On
Ever heard of a company called Last Energy?
It's based in Washington, D.C. And it just sold 34 nuclear reactors to Poland and the United Kingdom – a $3.5 billion deal to embrace nuclear power.
What's going on here? And why does this represent such a lucrative investment opportunity?
Let me explain...
This Deal Surprised Me
I'll admit, this deal surprised me. Europe has always been at the forefront of alternative energy sources. And for a while now, it's gone against the idea of nuclear power.
Half of France's nuclear power plants are offline. And Germany shuttered its plants – at least until the war between Russia and Ukraine got underway...
Yet two countries just agreed to a multibillion-dollar deal for nuclear power. Hmm...
Sending a Clear Message
We can't discount the importance of a key technological breakthrough with respect to these reactors.
You see, Last Energy focuses on small modular reactors – essentially miniature nuclear reactors. Due to their compact size, they can be installed in a variety of places.
And from an operations standpoint, not only can you use several of them to provide power, but if one needs to be taken offline, you don't have to take down a major electricity producer as a result.
But this acquisition also sends a clear message to investors like us: We need to have energy stocks in our portfolio. Here's why...
Energy's Role on a Global Stage
Not only is Europe seemingly getting back on board with respect to nuclear power, but the U.S. is also in the catbird seat when it comes to supplying energy.
Remember, Russia is no longer going to supply Europe with natural gas. So America needs to step up. The U.S. will have to find new ways to quench the massive thirst for energy, both domestically and internationally.
So, how do we play this trend as investors?
Three Investment Options
To start, you could invest in an energy-focused exchange-traded fund ("ETF") – the Global X Uranium ETF (NYSE: URA), for example. That will give you broad exposure to this rising energy trend.
Or if you want to target a specific energy company, let my hiring data guide you. For instance, here's hiring for Fluor (NYSE: FLR), a major drilling and exploration operation: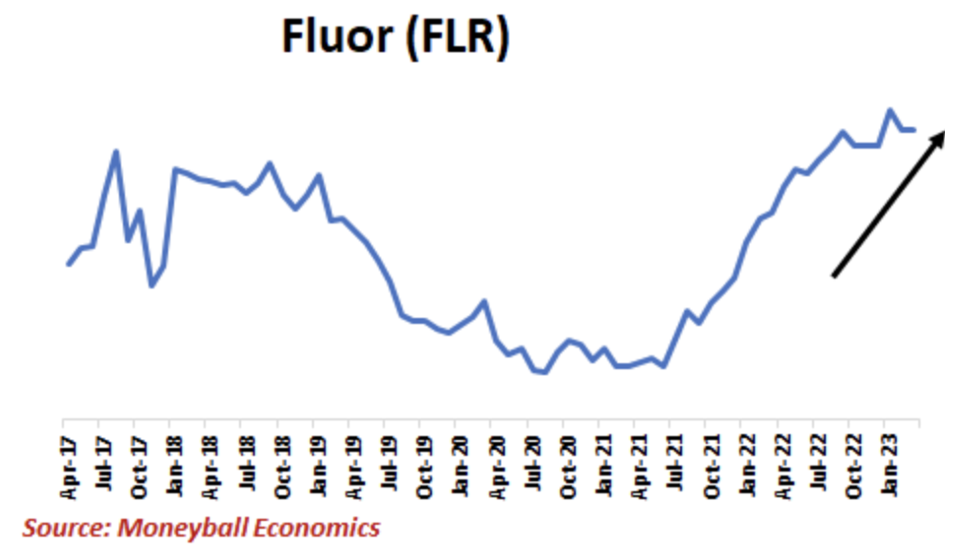 As you can see, hiring has soared since late 2021. And companies that expect to grow hire more – plain and simple.
But if you want to maximize your profit potential, I've found a different stock that I'm recommending for my "Pro" readers.
It's a mining company whose stock is well below its 2022 peak, creating an enticing buying opportunity. This company is involved in a project that could produce enough uranium for decades...
And as mining stocks enjoy years of higher demand (and higher prices), this company is my pick to potentially reap the lion's share of the rewards.
We're in it to win it. Zatlin out.
MONEYBALL PRO
TRADE OF THE DAY
[ ACTION TO TAKE ]
FOR MONEYBALL PRO READERS ONLY
>>>>>>>>>> Learn more <<<<<<<<<<
In it to win it,


Moneyball Economics