The Last Time I Saw This, The Housing Market Collapsed
There's a situation brewing in the real-estate industry…
The likes of which we haven't seen since 2006 — right before the housing bubble burst.
Should we be concerned? No…
We should get ready to profit!
For a transcript of this video, see below. This transcript has been lightly edited for length and clarity.
The Last Time I Saw This, The Housing Market Collapsed
Take a look at this chart…
It shows the sale price of new homes (in yellow) versus existing homes (in blue).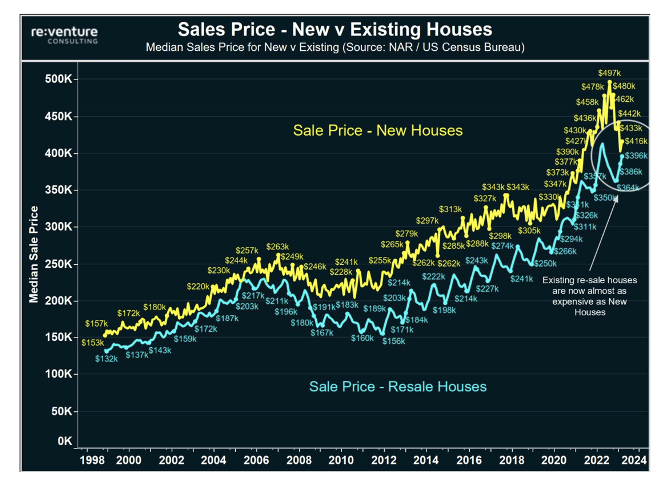 This data, which is from the National Association of Realtors and U.S. Census Bureau, paints a crazy picture:
It shows that, at the moment, the price for an existing home is just 4% less than the price of a new one. That's insane!
We haven't seen this tiny of a gap in prices since 2006, just before the housing bubble burst.
So what's going to happen this time around? Should we be selling home-builder and real-estate stocks?
On the contrary. My advice is simple: buy, buy, buy!
Let me explain…
The Benefits of Buying New
In a logical world, new homes should be notably more expensive than used ones. After all...
New homes feature untouched appliances, carpets, and fixtures. And the fact that the house was just built should mean you can live in it for a while without any major issues. You're paying for peace of mind, at least temporarily.
But when new and existing home prices are similar, it's a clear sign that the market is broken.
The thing is, this time it's broken for reasons that will benefit home builders. Here's how…
Supply vs. Demand
Look at this chart showing existing home sales:
Notice how sales volumes are down almost 20% in a year. Is that due to decreased demand? No way…
It's due to a major supply problem. In fact, look at recent data showing the number of homes listed for sale: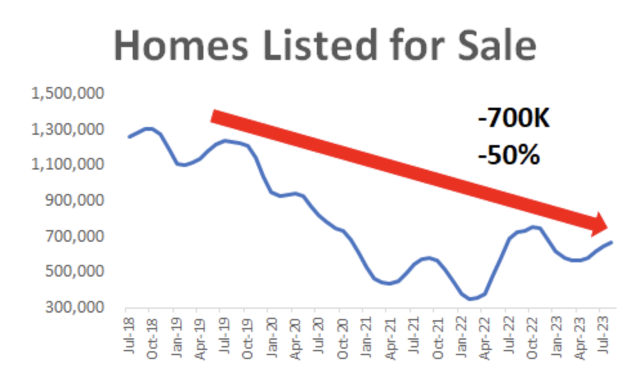 Today, there are 700,000 fewer homes listed for sale than in 2018. That's a 50% drop in five years.
Where did this supply go?
Staying Put
The fact is, a lot of people are locked into their current homes. Those who purchased a home in 2020 or 2021 are sitting on interest rates around 3%. They're not prepared to jump out and take on a 7% interest rate for their next home.
Simply put, they're staying put. And that's led to a shrinking supply of available homes.
Supply may be virtually non-existent. But demand for homes is still there…
And that's where home builders enter the picture.
Builders are Hiring
Home builders are in an ideal position right now. And my hiring data confirms it.
Here's hiring for Lennar (LEN):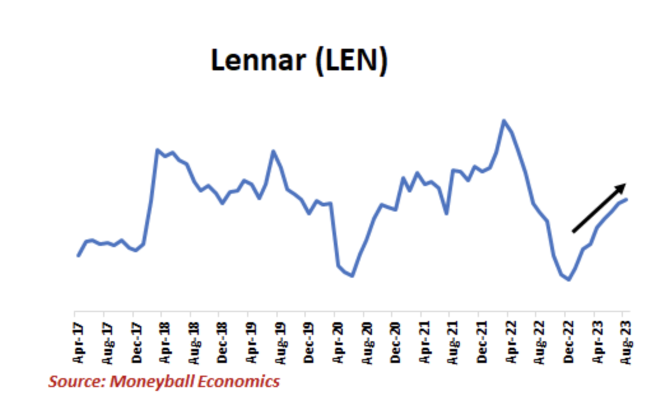 Notice the recent surge in hiring. Then there's PulteGroup (PHM), another home-construction company: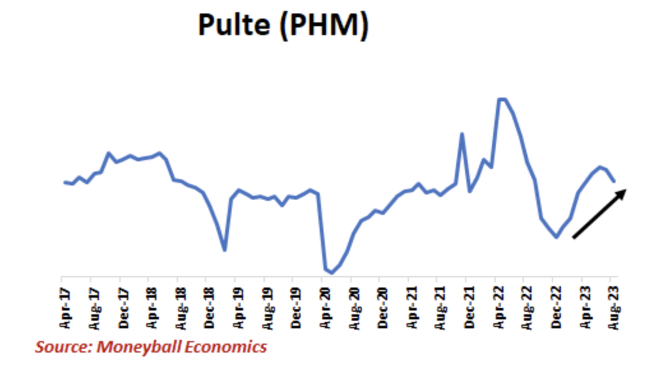 Meanwhile, hiring for KB Home (KBH) is trending up: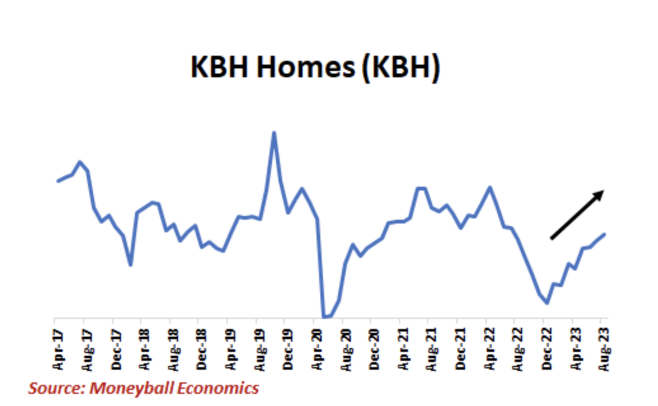 Keep in mind that when companies are hiring, they're expecting significant growth. And here's what's interesting:
Typically, this time of year is not when home-building companies go on hiring sprees. The popular home-buying periods of spring and summer are coming to a close. And yet these companies are hiring, indicating they expect increased demand.
Furthermore, the cost of lumber and other key materials is falling. That means these builders will be able to drop their prices (thus attracting even more potential buyers) and still walk away with healthy margins.
Then there's the interest-rate factor…
The Cherry on Top
If interest rates come down, mortgages will suddenly be more affordable. That'll send potential buyers flocking and give home builders even more business. Talk about the cherry on top of the sundae.
I have one more chart to show you. It shows new home-building permits over the past ten years: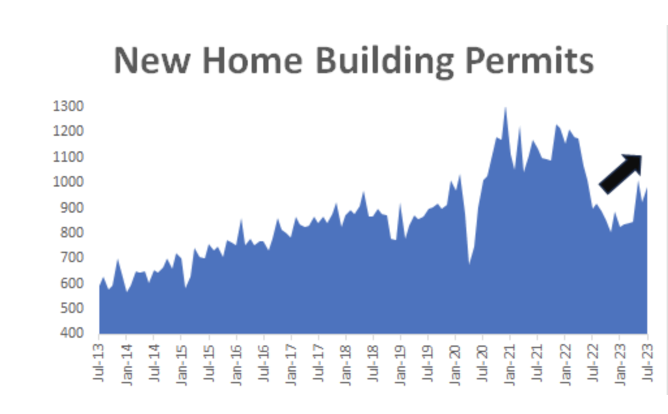 Take a look at the far right-hand side. During Covid, permit applications dropped. But now they're on the rise.
The funny thing is, nearly everyone expected home-buying demand to collapse in the face of sky-high interest rates. Instead, only the supply collapsed, but the demand remains.
If you're a home builder, you're in terrific position. And investing in any of the companies I mentioned above could position you for market-beating returns.
However, there's another way to play this housing predicament. It's an investment in a company that could deliver nearly 60% gains within a year.
Curious about the details? Make sure you become a Pro subscriber.
We're in it to win it. Zatlin out.
MONEYBALL PRO
TRADE OF THE DAY
[ ACTION TO TAKE ]
FOR MONEYBALL PRO READERS ONLY
>>>>>>>>>> Learn more <<<<<<<<<<
In it to win it,


Moneyball Economics