The Lifeblood of Stock-Market Investing
It's a message I've been shouting from the rooftops for years:
The key to determining if a company's stock price is poised to rise or fall is hiring data.
Today, I'm back with even more proof about this…
Including a look at a specific sector that investors should be very concerned about.
For a transcript of this video, see below. This transcript has been lightly edited for length and clarity.
The Lifeblood of Stock-Market Investing
I often talk about the power of hiring data:
How it can make you a savvier investor…
How it can help you time your entry and exit points…
And, most importantly, how it can help you achieve greater returns on your investments.
But today, I don't just want to talk about the impact this data can have…
I want to show you.
Plain and Simple
The basic thesis for hiring data is simple: Companies that are growing are hiring. Those that are shrinking aren't.
It really is that cut and dry. Let me show you:
This is a chart showing about ten years of revenue growth and hiring for Broadcom (AVGO), a semiconductor manufacturer.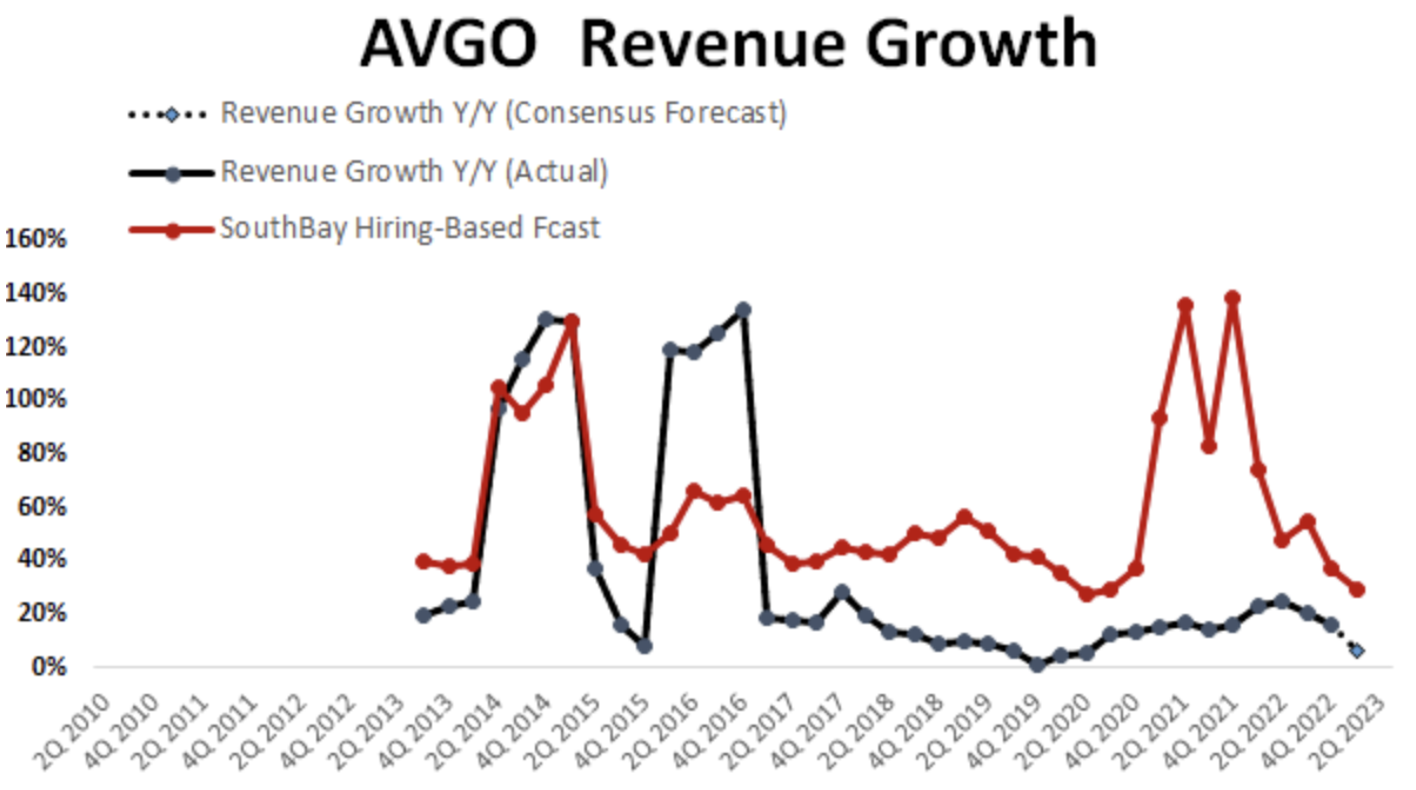 The blue line represents the company's revenue growth year-over-year. And the red line is the company's hiring activity.
Notice how tightly correlated the two categories are. When hiring goes up, company revenues do, too. But here's the thing:
I'm able to track hiring data in real-time, whereas revenues are only reported a handful of times per year.
In other words, I can identify the moment a company is hiring more employees, then immediately jump in to reap the rewards when its revenues — and hopefully its stock price — climb, too.
But does the market really react to changes in hiring data?
Where Hiring Goes, Earnings Follow
You bet.
You see, revenue growth is a proxy for earnings growth. And when earnings rise, stock prices inevitably follow.
Furthermore, revenues can't be finessed the way other metrics can. They're a pure signal of a company's performance and forward-looking prospects.
Let's take another look at Broadcom, only this time, we'll compare my hiring data to the company's stock price: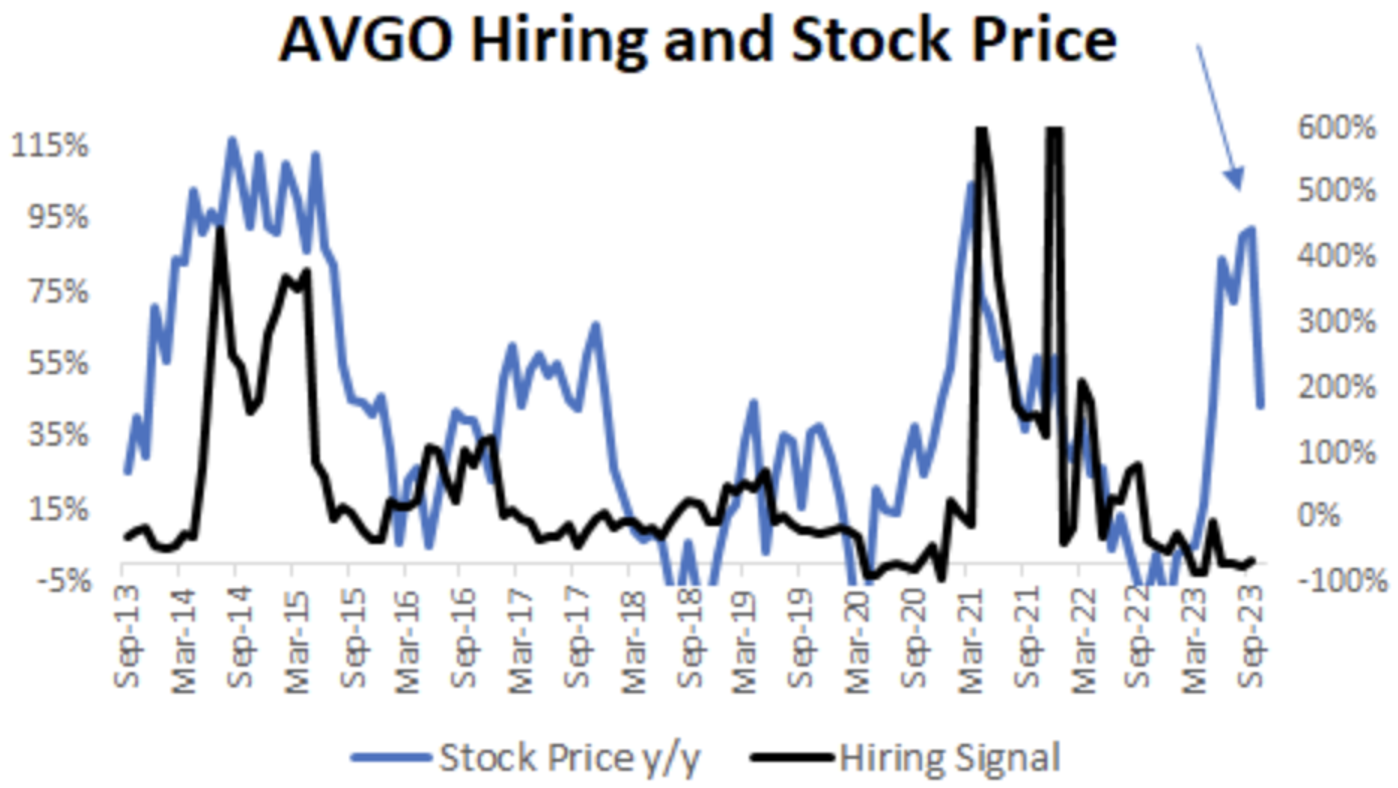 Once again, look how closely these two data points are correlated. When the company's hiring activity (shown in black) goes up, its stock price (shown in blue) typically does, too.
But notice the far right-hand side. Broadcom's recent hiring activity was lackluster, yet its stock price was surging — was, anyway.
See that recent stock-price plummet? That's indicative of a company whose hiring activity has slowed. And the fall likely isn't over.
The point is that hiring data can provide insight into a company's — or even an entire sector's — pending rise or fall.
And based on recent data, there's one sector that has me worried…
Look Out Below!
I'm referring to healthcare.
Companies across this sector have scaled back their hiring. Take a look: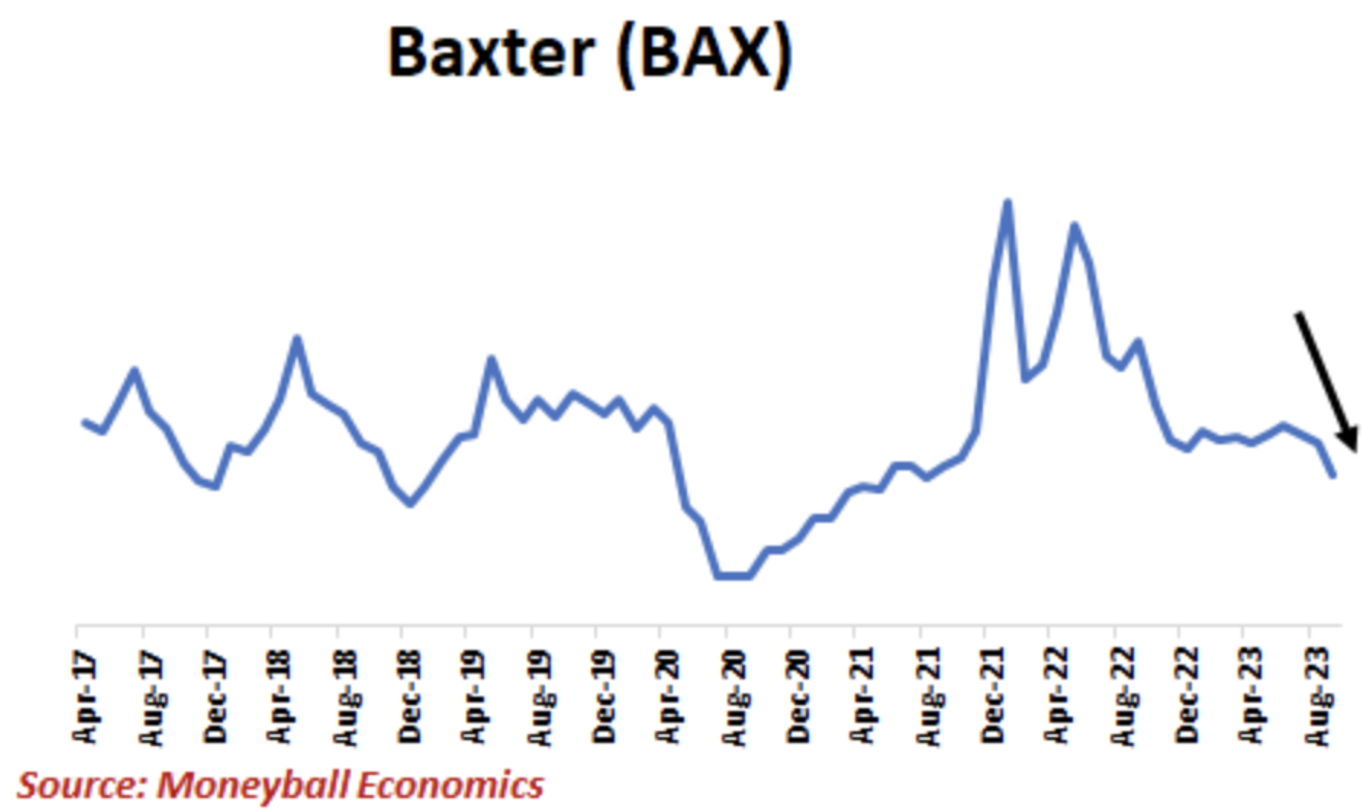 This is hiring for Baxter International (BAX), a medical-equipment provider. Starting in late 2021, hiring started to drop off and has continued to fall. What's going on?
This is a good representation of what's happening throughout much of the healthcare sector.
You see, during COVID, people delayed healthcare-related procedures — things like minor and major surgeries and even elective treatments. They stayed home and away from hospitals and clinics.
When COVID ended, however, there was a mad rush to complete these procedures. And healthcare companies were sitting pretty. They experienced tremendous growth, both in hiring and revenues.
Now, the healthcare frenzy has simmered, and companies in this sector are returning to normal. Well, most of them are.
Some are still thriving, while others are in trouble. The challenge is to figure out which ones fall into which category. And that's where my hiring data is so helpful.
In fact, my data recently pointed me to the ideal healthcare-related investment...
One that my Pro readers have taken advantage of already to capture 93% gains in less than three months! And there's plenty of profit potential still on the table.
Don't miss out on this opportunity. We're in it to win it. Zatlin out.
MONEYBALL PRO
TRADE OF THE DAY
[ ACTION TO TAKE ]
FOR MONEYBALL PRO READERS ONLY
>>>>>>>>>> Learn more <<<<<<<<<<
In it to win it,


Moneyball Economics