The Winners and Losers from SVB's Fallout
I'm on vacation this week...
But I discovered something that I had to bring to your attention.
It's a story the media is getting wrong...
And it's a chance for investors like us to secure some major profits.
For a transcript of this video, see below. This transcript has been lightly edited for length and clarity.
The Winners and Losers from SVB's Fallout
Last month, the collapse of Silicon Valley Bank ("SVB") sent tremors throughout the financial sector and the stock market.
But lately, the word on Wall Street is that things are beginning to calm, prompting many investors to consider jumping back in.
Of course, I've spent most of my career revealing what most of these "experts" are getting wrong. And today is no exception.
Let me share with you what I'm seeing, and then explain how you can profit from it.
Setting the Stage
To set the stage, take a look at this chart: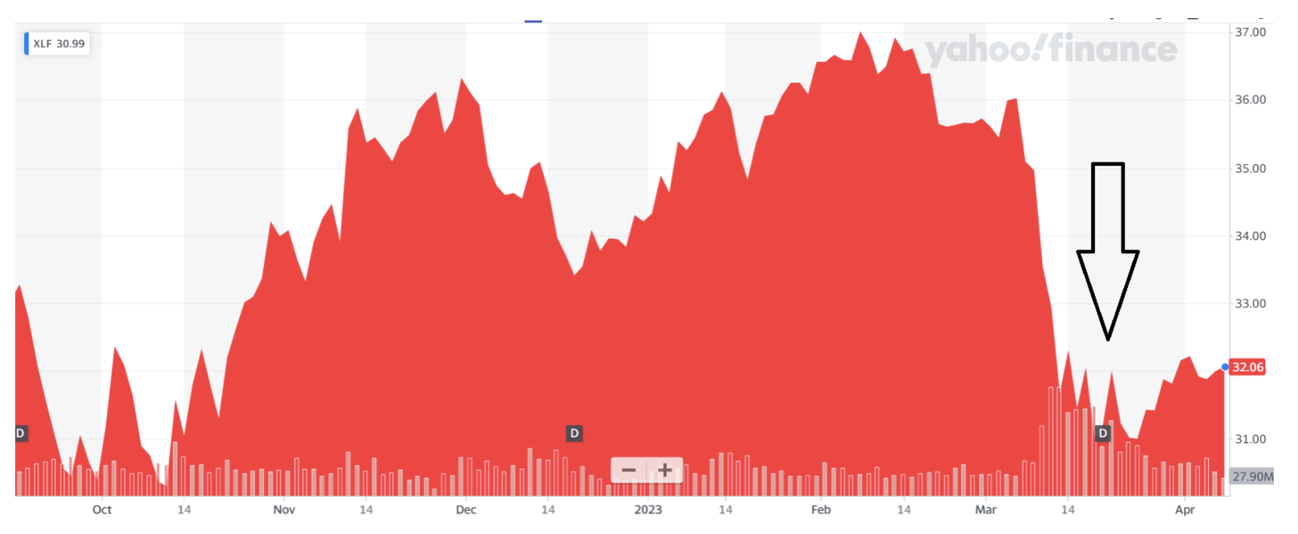 This is the performance of the popular financial sector exchange-traded fund, XLF. Basically, this fund includes companies focused on financial services, insurance, banking, mortgages, and consumer finance.
Notice how the fund recently took a dive. That was thanks to SVB's collapse. But it's since enjoyed a mild recovery. The fund is starting to trickle back up.
So... Is it time to be bullish with respect to the financial industry?
Yes and no. Let me explain...
Hiring Data Reveals the Truth
My hiring data shows me what's really going on.
While most analysts are interpreting this recent rally as a sign of calming waters, I'm still seeing plenty of turmoil ahead – at least within a few specific sectors.
You see, some parts of the financial industry are indeed in good position. But others are in real trouble. We can't paint this entire industry with a single brush.
The key as investors, though, is finding the winners and avoiding the losers.
I've Got Your Back
Fortunately, you follow me! And identifying these companies is my specialty.
To start, I looked at hiring for SVB. No surprise, it's tanked: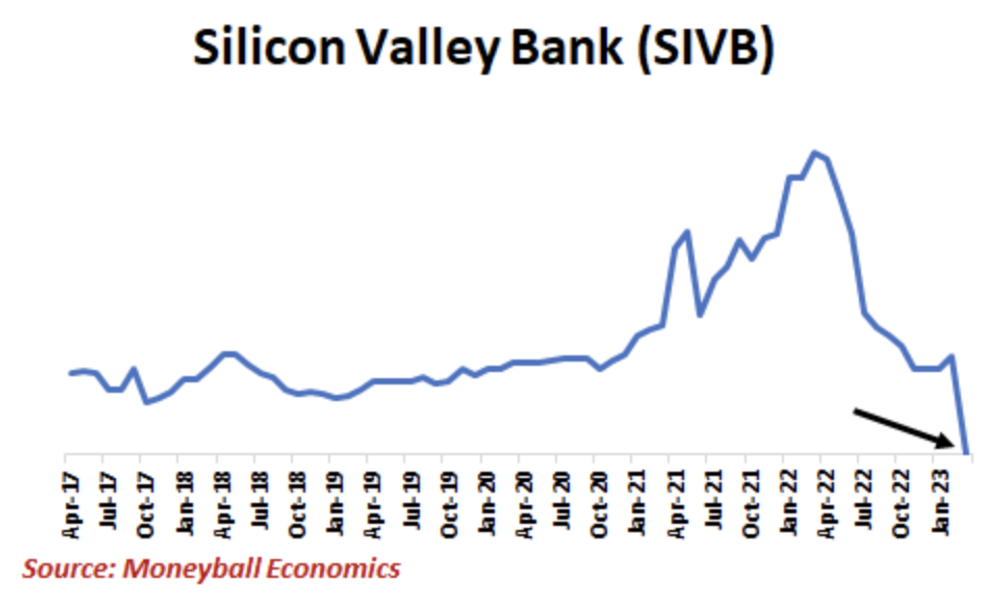 Then I looked at other regional banks, like M&T Bank (MTB), for example: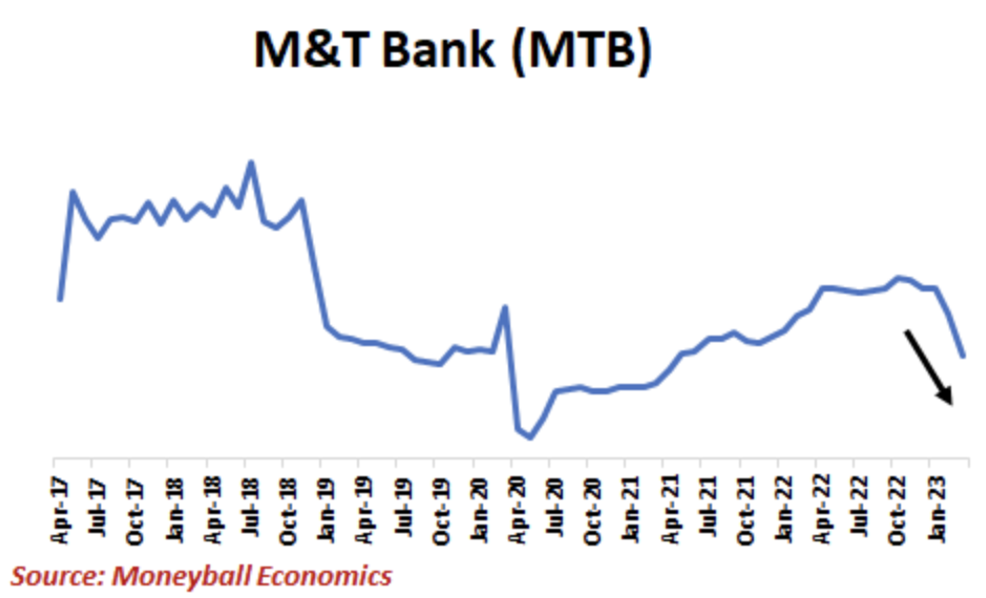 Here, too, hiring has dropped. And that's key.
Simply put, regional banks have been hit hard by the SVB fallout. In fact, companies in this group cut their hiring last month by an average of 18%.
At the same time, asset management companies took it on the chin, too. Hiring was down 12% in this sector last month. Perhaps people fled to safer investment waters and these companies had fewer assets to manage.
Bottom line: Regional banks and asset management companies can be considered the "losers" right now. As for the winners...
The Big Boys are Sitting Pretty
Look at the banking big boys – companies like Wells Fargo (WFC), JPMorgan (JPM), and Bank of America (BAC).
These guys are flourishing. Apparently, people took their money out of regional banks and fled to these financial giants, perhaps equating their larger operations with more safety and stability.
Additionally, big-name investment banks – Goldman Sachs (GS), for example – increased their hiring, too. I wonder if they saw opportunities to poach talent that was leaving the smaller banks.
There's one other thing to note about this whole situation...
A Tailwind for FedNow
The banking giants are going to be instrumental in the government's push for FedNow, the upcoming digital currency.
That tells me that these companies are in good shape in both the short and long term...
And it's these companies we want to focus on as investors. The question is, how do we know which one to bet on?
Well, to play it safe, you could keep an eye on XLF, which I mentioned earlier. That's certainly a good proxy for what's happening in the financial space, but it's also quite broad.
To better target your investment capital, I've found a single financial company I believe is in the best position for success. The company I'm talking about could see its stock climb 30% to 40% by the end of this year – and soar even higher in 2024.
I'm only revealing the name of that company to my "Pro" readers, though, so don't miss out.
We're in it to win it. Zatlin out.
MONEYBALL PRO
TRADE OF THE DAY
[ ACTION TO TAKE ]
FOR MONEYBALL PRO READERS ONLY
>>>>>>>>>> Learn more <<<<<<<<<<
In it to win it,


Moneyball Economics