This Could Be a Generational Bull-Market Rally
Earnings season is kicking off. And while most "experts" are forecasting an earnings recession...
I'm incredibly bullish on U.S. prospects moving forward. In fact, I think we're on the cusp of a bull-market rally...
The likes of which we haven't seen in a generation.
For a transcript of this video, see below. This transcript has been lightly edited for length and clarity.
This Could Be a Generational Bull-Market Rally
A year from now, we could see a rally unlike anything we've seen in decades. And if we invest correctly, we can position ourselves to earn a windfall of profits.
Where should we put our money? To start, let's invest in one of America's biggest industries...
A sector that's due for an historic rebound.
A Big Slice of Our Economy
I'm referring to the auto industry.
This industry is essential to the U.S. economy:
It represents 3% of our nation's Gross Domestic Product ("GDP"). 
It employs 10 million people.
And it's the largest manufacturing sector in the country.
Of course, since COVID-19 struck, this industry has had its share of problems...
COVID Takes its Toll
To understand what I mean, look at this chart: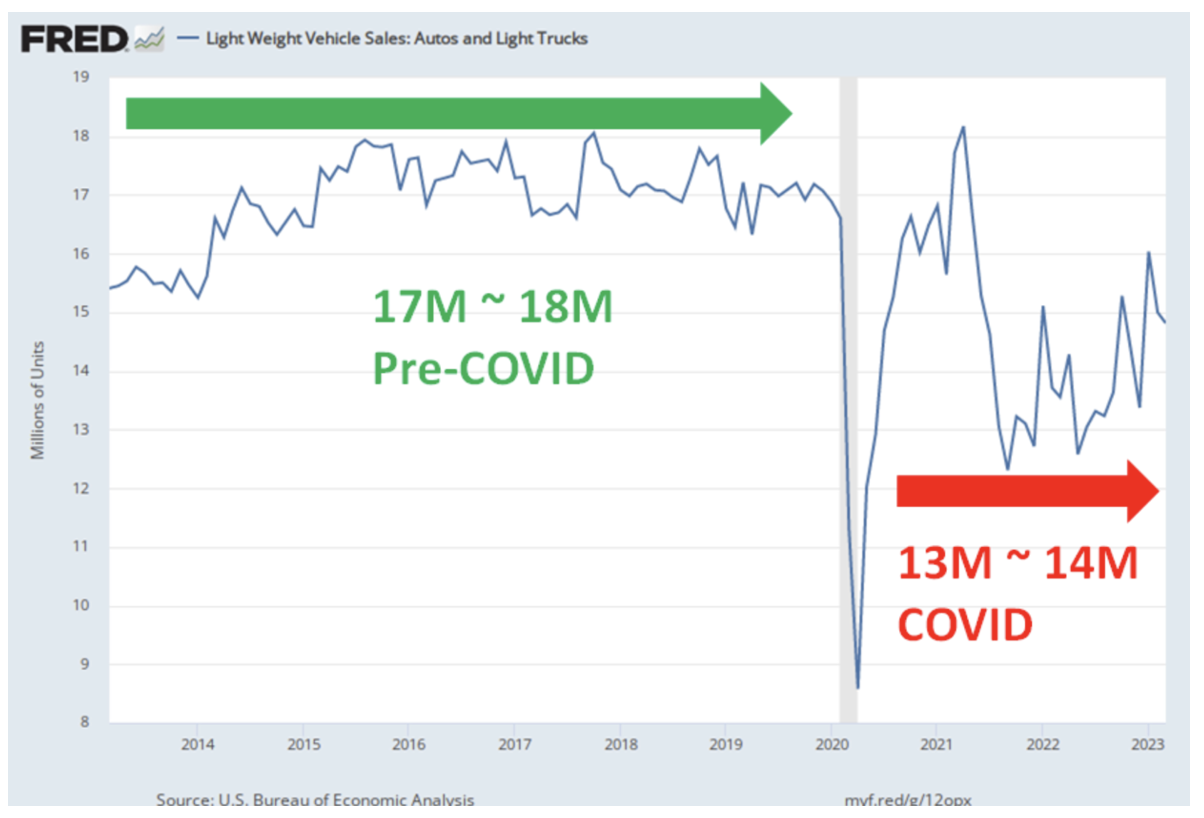 Before COVID, around 17 to 18 million cars were sold in the U.S. annually. But when the pandemic hit, that number fell to around 13 to 14 million – a drop of nearly 30%.
This was terrible for the U.S. economy. Between 2020 and 2023, 11 million fewer cars were sold, equating to $200 billion missing from the auto industry.
Why did things fall so far so fast? Not for the reasons you might think...
A Common Misconception
You might imagine that shuttering indoors for months "crashed" the auto industry. But demand for cars throughout COVID actually remained high. For example, Toyota (TM) ended last year with 20,000 cars on its lots. Pre-COVID, that number would've been around 300,000.
Even today it's hard to find a new car. Fresh inventory sits on dealership lots for about three weeks, compared to one or two months prior to COVID.
In short, COVID did little to dampen demand for new cars. Here's what really plagued the auto industry...
What Really Happened
To start, people who spent time sheltering in place spent their discretionary money on other things – computers, TVs, smartphones. They wanted new cars, sure, but they weren't putting as many miles on their cars, so other purchases won out.
Furthermore, keep in mind that cars are very dependent on semiconductors. There are about 1,000 microchips inside a single car and twice as many in an electric vehicle.
Not only was there a supply issue with semiconductors that hindered auto production, but a lot of components to make a car – things like braking systems and sensors, many of which are assembled in China – were hard to get. China shut down its factories. In fact, up until a few months ago, China was still operating on a restricted schedule.
These issues translated to fewer cars and trucks being produced and sold. The thing is, the situation is pulling a complete 180. Let me explain...
From Shortage to Surplus
With respect to available semiconductors, we're quickly going from a shortage to a surplus.
Demand that previously soaked up semiconductor supply has waned. Apple (AAPL), for example, recently reported a 40% drop in computer sales. This shows that a lot of competition for parts has gone away. In fact, chip suppliers are having to chase down auto companies for business.
Then there's China, which is coming back online in a big way. That's another huge bottleneck that's about to open.
Finally, even chip suppliers are convinced the situation is reversing. In a recent survey, more than half of chip makers said we're either already in a chip surplus, or that one will happen sometime this year.
What This Means for Autos
Let's revisit the auto industry. Take a look at this chart: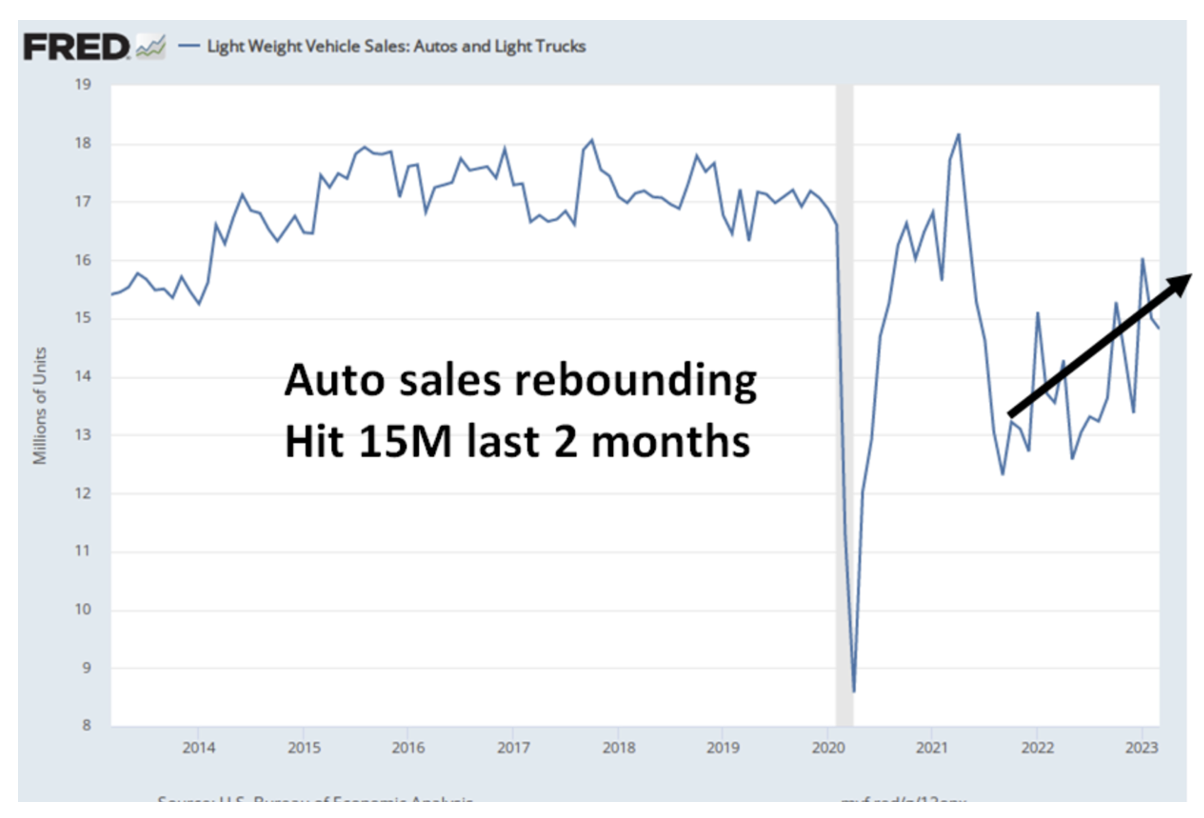 As you can see, auto sales are already rebounding. That must mean auto companies are ramping up production, right? Not quite...
Actually, they're more so gearing up to ramp up. Demand is there from consumers. Now auto makers have to hire more workers and increase production.
Here's hiring for Ford (F):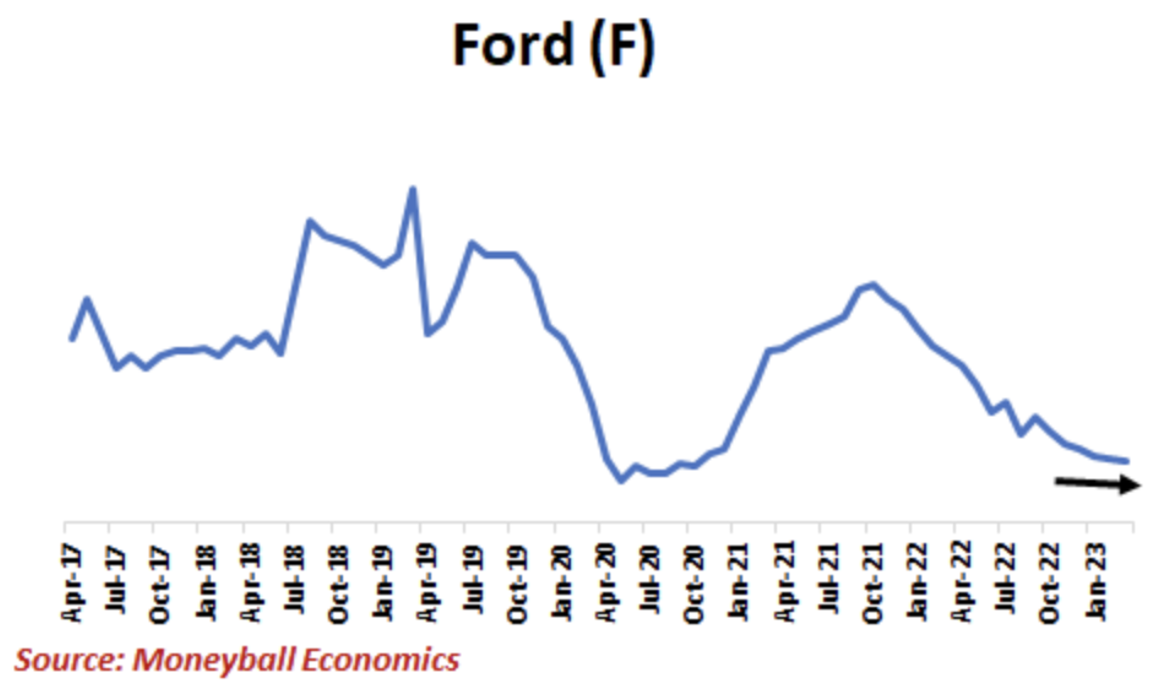 While hiring isn't trending up yet, it's leveling off – a sign of good things to come.
So, which auto manufacturer do we bet on to get behind this rally?
A Different Approach
None of them! That's right – we're taking a different approach.
You see, I'm focused on picks and shovels companies in this industry, ones who supply parts and components that every auto maker relies on. That way, as this industry rallies, we'll be sitting pretty no matter which car or truck company comes out on top.
For example, consider Goodyear Tires (Nasdaq: GT), which makes tires and offers auto repair services. As you can see its hiring is up: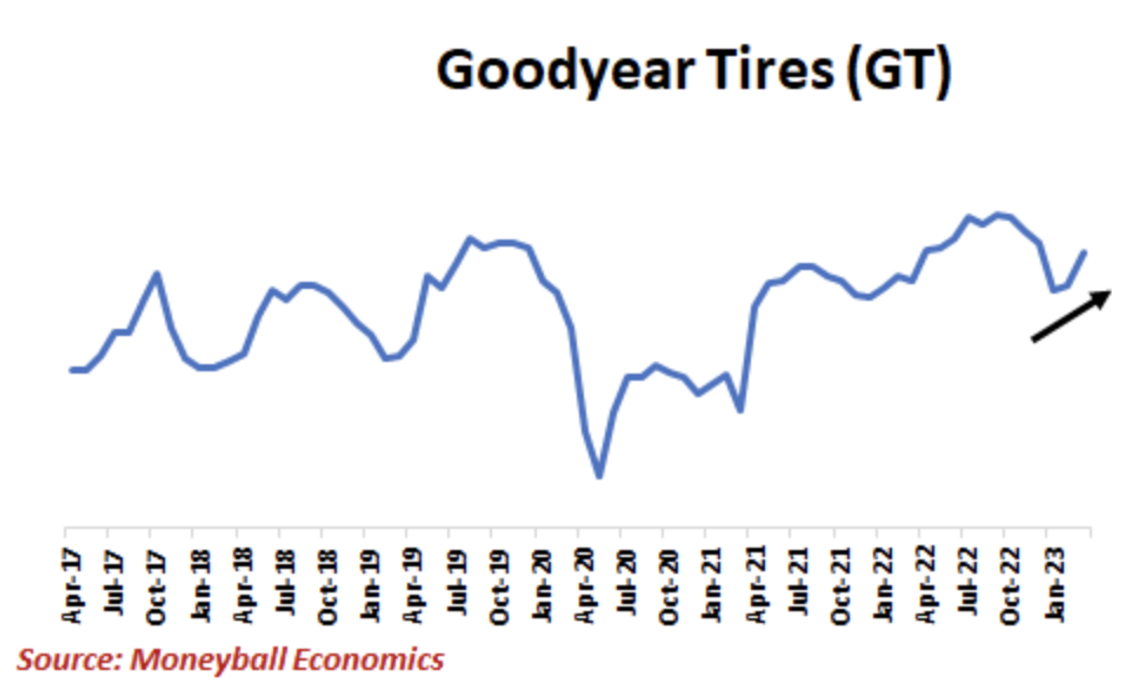 As for my favorite pick and shovel play, the one that's poised to deliver investors a windfall of profits – I'm talking 120% returns or higher – I'm saving that for my "Pro" readers only. So don't miss out.
We're in it to win it. Zatlin out.
MONEYBALL PRO
TRADE OF THE DAY
[ ACTION TO TAKE ]
FOR MONEYBALL PRO READERS ONLY
>>>>>>>>>> Learn more <<<<<<<<<<
In it to win it,


Moneyball Economics