This Retailer Has a Few Secret Weapons
Consumer spending habits are changing yet again.
Gone is the "urge to splurge." And in its place is a focus on value.
So, where are shoppers taking their hard-earned dollars?
The answer could lead us to windfall profits.
This Retailer Has a Few Secret Weapons
During COVID, people put money into their homes – not just toward renovations, but also new furniture, appliances, and electronics.
Then, the world reopened, and everyone raced to get outside. They felt an urge to splurge, particularly on things like travel and experiences.
Today, their spending habits are once again signaling a new trend. They're pushing back against overpriced products and services...
And while they're still spending money on the things they need, where they're doing their shopping is key – because it's our path to potential profits.
I Hit My Limit
A few weeks ago, I had a choice: Fly my family down to Key West, Florida, or drive them up to Washington, D.C.
I chose the trip to Washington. And I saved thousands in the process, mostly by foregoing overpriced plane tickets.
My story demonstrates a point: Everyone has a spending limit. And American consumers are quickly reaching theirs.
I don't care whether you're a low-income, middle-income, or a high-income household. Everybody is facing more expensive goods and services. And everyone is taking a harder look at their household budgets.
Most people are focusing on the basics, the everyday purchases they and their family need. And as I alluded to earlier, that's a major shift from just a few years ago...
Only the Essentials
For example:
Furniture imports are down 20% compared to last year.
So are imports for computers and electronics.
Sporting goods purchases are down, too.
In short, consumers are spending less on non-essentials. And sure enough, that's wreaking havoc on a lot of retailers...
Retailers are In Trouble
Like Target (TGT), for instance. Half of this company's sales come from things like home furnishings, clothing, and beauty products. Its business depends on selling things that consumers aren't buying.
Foot Locker (FL), the shoe chain, has seen sales drop 15% and recently shuttered 545 stores. Bed Bath & Beyond (BBBY), meanwhile, recently filed for bankruptcy.
Bottom line: It's a bloodbath out there. And the thing is, the customers that are visiting these stores aren't always there to shop...
A Problem with Sticky Fingers
Take a look at this: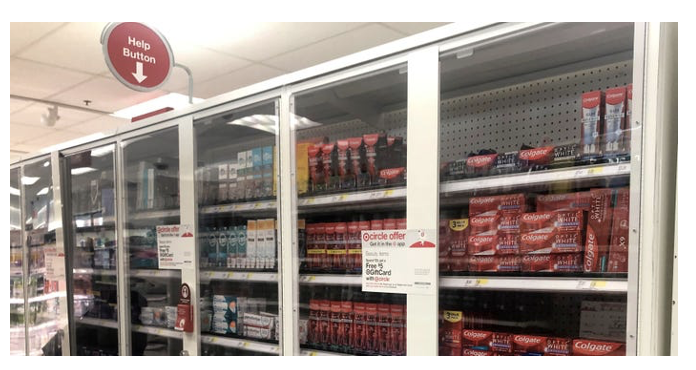 This was taken inside a Target in San Francisco. Notice how everything – toothpaste, soap, deodorant – is locked up.
That's because stores like Target have been met with an alarming uptick in shoplifting. In the Bay Area, five Walgreens (WBA) pharmacies shut down because of rampant theft. And Whole Foods is closing stores, too.
According to the National Retail Federation, 71% of retailers in a recent survey reported a substantial rise in shoplifting.
Consumers Are Still Spending... But Where?
As you can see, a lot of retailers are getting hit left, right, and center. The thing is, not all of them are facing such dire circumstances.
You see, despite a pushback on overpriced goods, consumers are still spending. They're still buying the things they need...
And as it happens, a lot of them are flocking to the same store.
This retailer is uniquely positioned for success – it does well in good times and bad – and it has not one, but two secret weapons.
It's why this company is my ideal way to invest in the latest shift in consumer spending. And I've saved the details for my Moneyball "Pro" subscribers, so make sure you're one of them.
We're in it to win it. Zatlin out.
MONEYBALL PRO
TRADE OF THE DAY
[ ACTION TO TAKE ]
FOR MONEYBALL PRO READERS ONLY
>>>>>>>>>> Learn more <<<<<<<<<<
In it to win it,


Moneyball Economics