Your Chance to See My Proprietary Data in Action
The mission here at Moneyball Economics is simple:
Use the right economic data to pinpoint the right investments.
Today, I'll share two data points that give us a clear line of sight toward potentially profitable opportunities.
For a transcript of this video, see below. This transcript has been lightly edited for length and clarity.
Your Chance to See My Proprietary Data in Action
It's a rough time for retailers.
First-quarter sales at hardware chains Home Depot (HD) and Lowe's (LOW) fell 5% and 6%, respectively.
Sales at shoe-store chain Foot Locker (FL) fell 11% year-over-year.
And electronics retailer Best Buy (BBY) saw sales crash 12%.
If you're in the retail business, these numbers aren't good. However, if you're looking to invest in this sector, these numbers give me an idea. Let me explain...
Follow the Money
When it comes to picking stocks, my strategy is simple: follow the money.
What companies are growing? What companies are consolidating?
The answers to these questions aren't always advertised on your favorite financial or news website. But in the case of retail, you can find the answers simply by following import data and hiring data.
Let me show you what I mean...
A Different Time
Three years ago, retail spending looked a lot different than it does today.
Makes sense – after all, in 2020, we were all sheltering in place. We spent money on new couches, new appliances, and on tech gadgets to keep us entertained. We didn't spend much on things like beauty products and clothes.
Today, our spending habits have flipped. We aren't buying electronics or appliances, but we are buying things like clothing, apparel, and cosmetics.
This is where import data becomes so valuable. Remember, goods being imported now will go on store shelves to be sold in a few months. In other words, today's imports represent tomorrow's retail sales.
Let's look at this data in action...
Import Data at Work
Here are first-quarter imports for home furnishings in the first quarter of 2022 and the same period in 2023: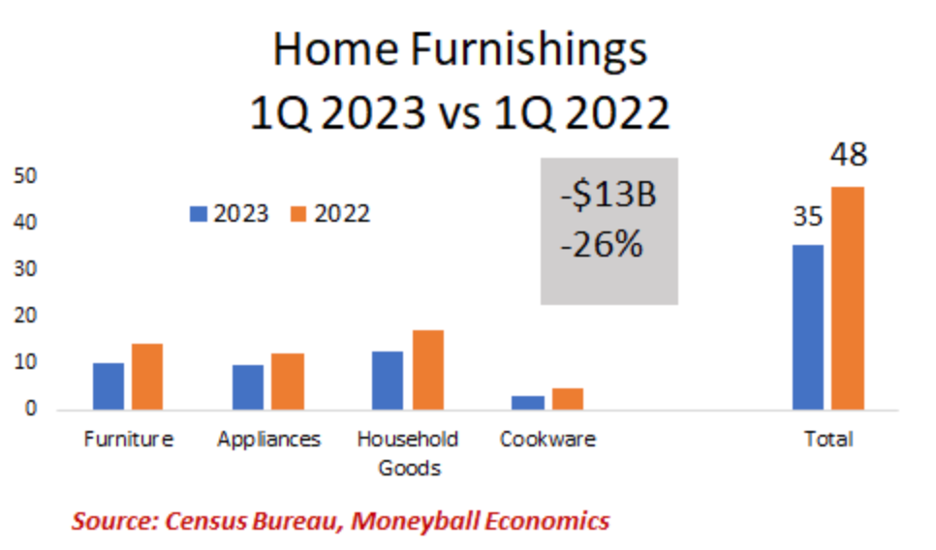 This year, imports were down 26% – or $13 billion – during the first three months compared to a year ago.
Home entertainment experienced a 19% drop: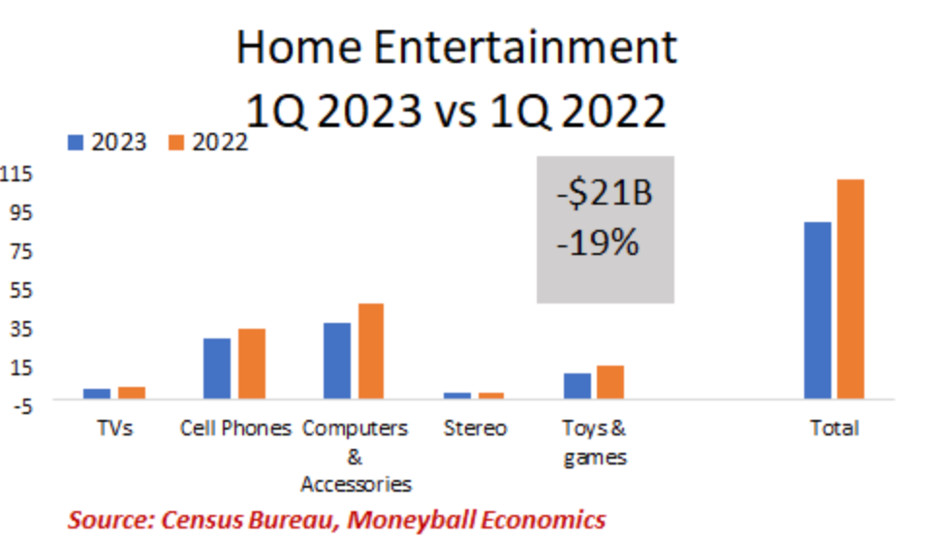 And construction imports fell a whopping 37% from the same quarter a year ago: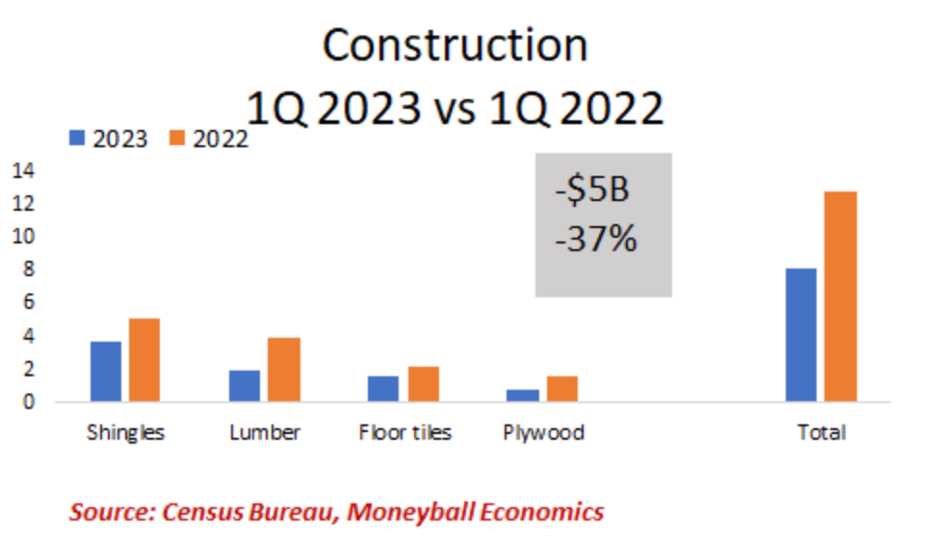 This data is telling. But remember, it's not bad news everywhere. Imports for the auto industry, for example, were up $14 billion during the first quarter of 2023.
Simply put, import data can help use forecast which parts of the retail sector – of any sector, truthfully – are trending up or down.
And we can use the second key piece of data to confirm our hypothesis...
Hiring Data Confirms All
That's my hiring data. Let's take a look. Here's hiring for Fortune Brands (FBIN), which makes kitchen cabinets: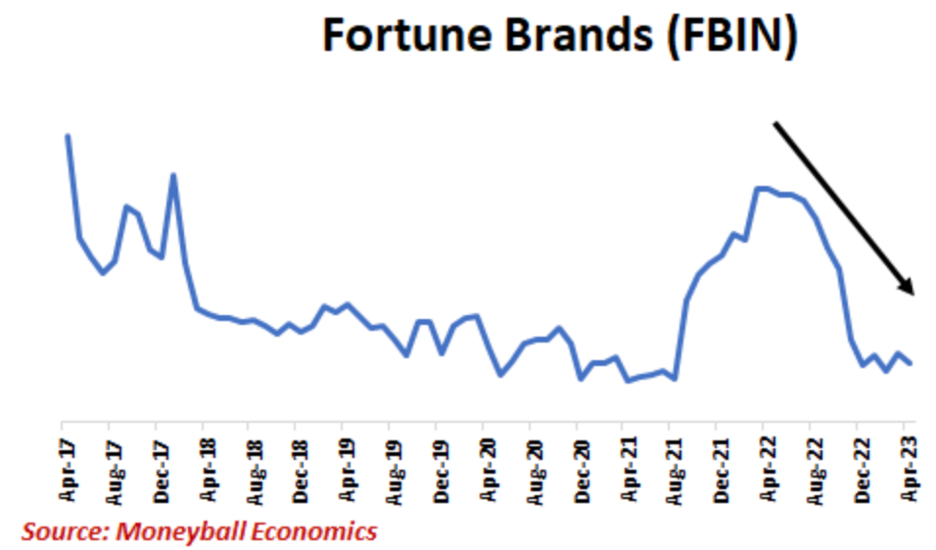 Hiring surged during COVID because everyone wanted to remodel their home. But it's since collapsed.
Sherwin-Williams (SHW), a paint company, has seen hiring crater, too: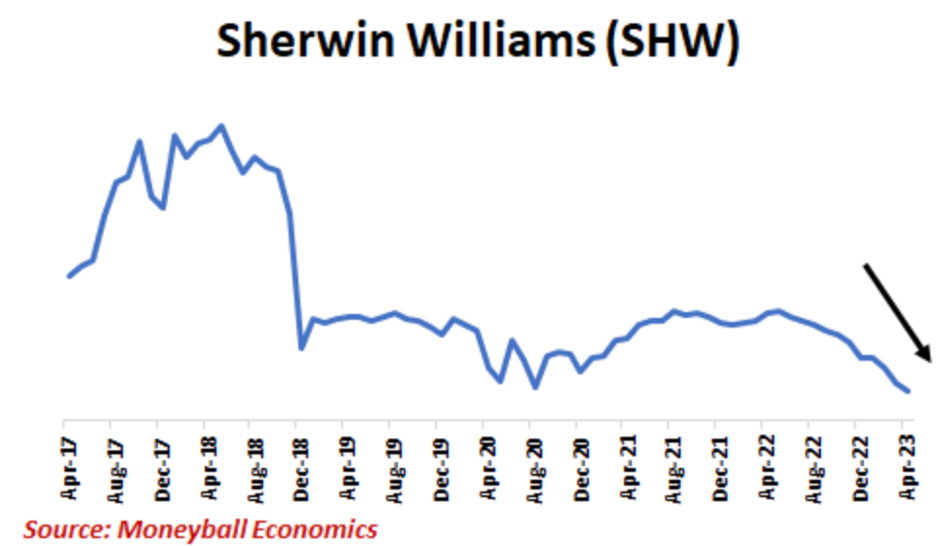 Meanwhile, Goodyear Tires (GT) has seen hiring take off in recent months as the auto industry booms: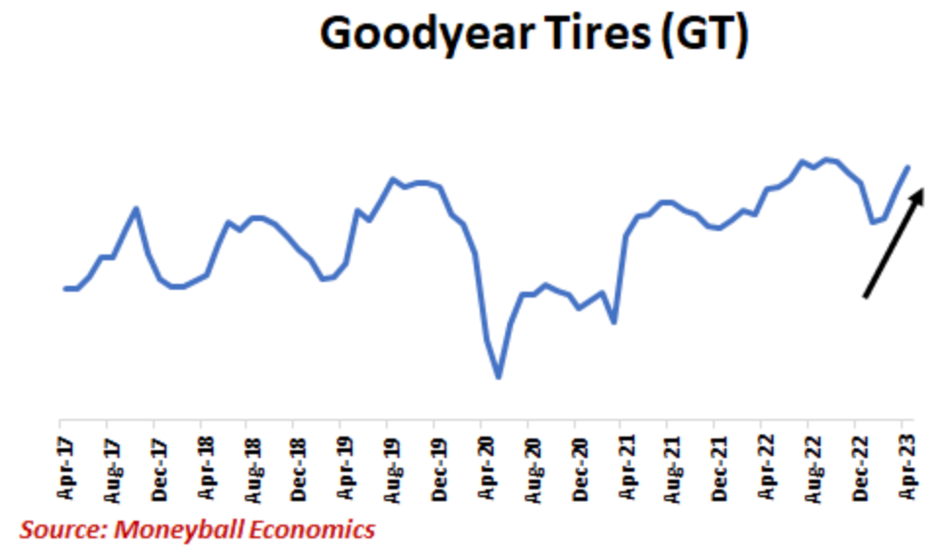 And here's what's interesting...
Wall Street's Got It Wrong!
In the three cases above – Fortune Brands, Sherwin-Williams, and Goodyear – all three companies' stock prices are flat. This despite two instances of plummeting hiring and one where business appears to be booming!
What's that mean? Opportunities for investors like us to get in on those companies and either bet on them to soar (knowing they're in great shape), or bet against them (knowing they're in trouble) before Wall Street realizes what's really going on.
In any case, my import and hiring data enables us to spot things mainstream investors can't see. And that gives us an advantage in the market.
The thing is, my data is shining light on perhaps my favorite opportunity right now. But I'm only sharing the details with my "Pro" members, so make sure you're one of them.
We're in it to win it. Zatlin out.
MONEYBALL PRO
TRADE OF THE DAY
[ ACTION TO TAKE ]
FOR MONEYBALL PRO READERS ONLY
>>>>>>>>>> Learn more <<<<<<<<<<
In it to win it,


Moneyball Economics